Alternate header for print version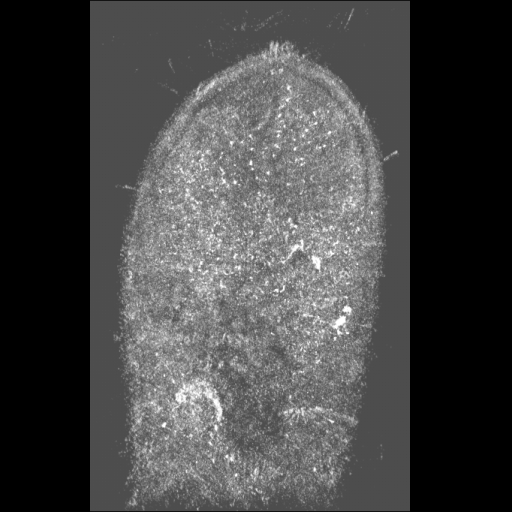 Display image description

A maximum intensity projection of a Caulobacter crescentus specimen at 0 degree tilt.
Full resolution image description

This .tar file contains two .mrc reconstructed volumes: cb1_full.rec and cb1.rec. cb1_full.rec is the full, untrimmed (and unflipped) volume. cb1.rec is the trimmed slice by slice volume used for subsequent analysis.
Volume_dimension

993, 1582, 101
Volume scale

0.001, 0.001, 0.001
Animation description

a .mpg animation movie of a maximum intensity projection of Caulbacter crescentus, rotating about the y-axis.
---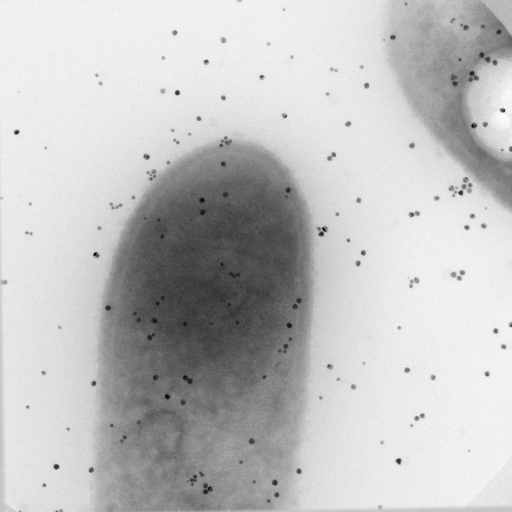 Display image description

A Caulobacter crescentus specimen from the aligned tilt series at 0 degree tilt.
Full resolution image description

A .tar file containing all files necessary for a slice by slice volume reconstruction using IMOD. Some files included are the .st, .preali, .ali, .fid, .rawtlt and a notes.txt file listing some procedures used during the reconstruction process.
Animation description

a .mpg file format movie of a Caulobacter crescentus. Movie involves the aligned tilt series.
---
License
Description

Tomography of Caulobacter crescentus
Funding agency

Department of Energy
Leader(s)

Lucy Shapiro
Harley McAdams
Collaborator(s)

Patrick H. Viollier
Tom Deerinck
Mason Mackey
John Crum
Mark Ellisman
Experiment
Experiment date

04-01-2007
Title

Tomographic reconstruction of caulobacter
Purpose

To produce a series of tomographic reconstructions of the normal morphology of caulobacter using traditional fixing methods.
Experimenter(s)

Tom Deerinck
Guido Gaietta
Microscopy product
Microscopy product ID

3700
| Spatial Axis | Image Size | Pixel Size |
| --- | --- | --- |
| X | 4020px | 0.556 nm/pixels |
| Y | 4020px | 0.556 nm/pixels |
Subject
Species

Caulobacter crescentus
Scientific name

Caulobacter crescentus (Snc04)
Tissue section
Tissue product storage

N/A
Specimen description
Cell type

Caulobacter crescentus
Imaging parameters
Type

Electron microscopy product
Specimen preparation
Protocol used

Induced for 1 hour at 30 degrees CLabeled in M2G medium for 2 hours at 30 degrees C (in the presence of 1.8 micromolar ReAsH-EDT2) and photoconvertedSamples were fixed with 2.5% glutaraldehyde with 1% acrolein in 0.05M sodium cacodylate pH 7.4 with 3 mM CaCl2 and 1 % sucrose followed by conventional osmium tetroxide/potassium ferrocyanide post-fixation, dehydration and embedding.