Alternate header for print version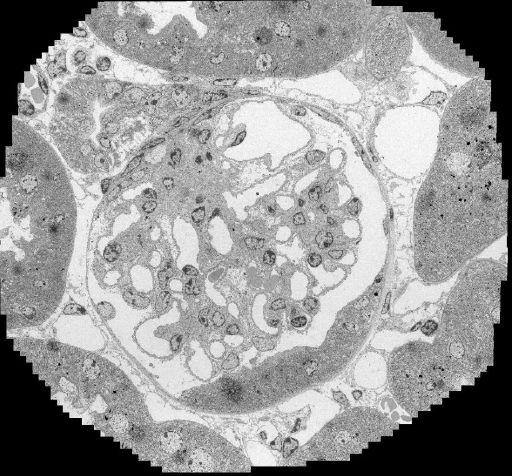 Display image description

Control transmission electron microscopic overview of a glomerular section. In contrast to the glomerular section after infusion with hyaluronidase, no endogenous albumin was found bound to the surface of podocytes, foot processes, or parietal epithelial cells. The sample has been imaged at 1.2 nm pixel-1. resolution over an area of 144 x 134 µm2.
Full resolution image description

Full resolution stitched TEM mosaic of the kidney glomerulus in TIFF format. The sample has been imaged at 1.2 nm pixel resolution over an area of 144 x 134 um
Volume_dimension

123904, 115200, 1
Volume scale

0.0012, 0.0012, 0.1
---
License
Project name

Role of the endothelial glycocalyx in renal glomerular and tubular function
Description

Determine the role of the endothelial glycocalyx in the glomerular filtration barrier.
Funding agency

Dutch Kidney Foundation
Leader(s)

Dr. Bernard M. van den Berg
Prof Dr Ton J. Rabelink
Collaborator(s)

Martijn J.C. Dane
Bernard M. van den Berg
M. Cristina Avramut
Frank G.A. Faas
Johan van der Vlag
Angelique L.W.M.M. Rops
Raimond B.G. Ravelli
A.J. Koster
Anton Jan van Zonneveld
Hans Vink
Ton J. Rabelink
Experiment
Experiment date

01-01-2011
Title

Perturbation of the glomerular endothelial surface layer results in albumin filtration
Purpose

Determine the effect of hyaluronidase on the filtration of albumin over the glomerular filtration barrier
Experimenter(s)

Martijn Dane
Bernard van den Berg
Cristina Avramut
Angelique Rops
Microscopy product
Microscopy product ID

9523
Instrument

Transmission Electron Microscope
Image basename

C5_RK_4_Ab_1to100_18500_stitch
| Spatial Axis | Image Size | Pixel Size |
| --- | --- | --- |
| X | 144px | 1.2 nm/pixels |
| Y | 134px | 1.2 nm/pixels |
Subject
Scientific name

mus musculus
Treatment

Mice were treated with active hyaluronidase via an osmotic minipump for either 2 or 4 weeks.
Tissue section
Anatomical location

Kidney
Microtome

Reichert Ultracut S (Leica)
Imaging parameters
Type

Electron microscopy product
Accelerating voltage

120 KV
Notes

Magnification at the detector plane is 25,740X
Specimen preparation
Protocol used

Kidney tissue was dissected at 100 um thickness with a vibratome. Part of the slices are blocked with 10 percent normal goat serum and 0.3 percent Triton 100 in PBS for 30 minutes on ice followed by incubation o/n at 4 degrees C with horseradish peroxidase-conjugated goat anti-mouse albumin (Bethyl Labs, USA, diluted to 1/400) in 1 percent heat inactivated normal goat serum in PBS. After washing, about 1mL of 3,3'-diaminobenzidine reaction solution (15 mL DAB solution + 10-15 uL H2O2, 30 percent, (Dako, Denmark)) was added, incubated for 30 minutes at 4 degrees C, washed again and incubated for 1 hour with 1.5 percent GA and 1% PFA in cacodylate, rinsed in cacodylate and postfixated in 1 percent osmium tetroxide + 1.5 percent potassium ferrocyanide. Samples were dehydrated and processed further into epon. Sequential 100 nm sections were mounted on a copper slot grid covered with Formvar support film and a 3 nm carbon coating for TEM, and on a water drop on a clean glass slide for RCM.20 The sample was mounted with immersion oil (Immersol 518F, Zeiss) on a RCM-adapted microscope (reflection contrast device RV; Leica, Wetzlar Germany). Images were recorded with a 100X, 1.25 NA objective. TEM sections were stained with an aqueous solution of lead citrate and uranyl acetate before visualization and data was collected at an acceleration voltage of 120 kV,on a Tecnai 12 (BioTWIN) transmission electron microscope, equipped with an Eagle CCD camera (FEI company, Eindhoven, the Netherlands).