Alternate header for print version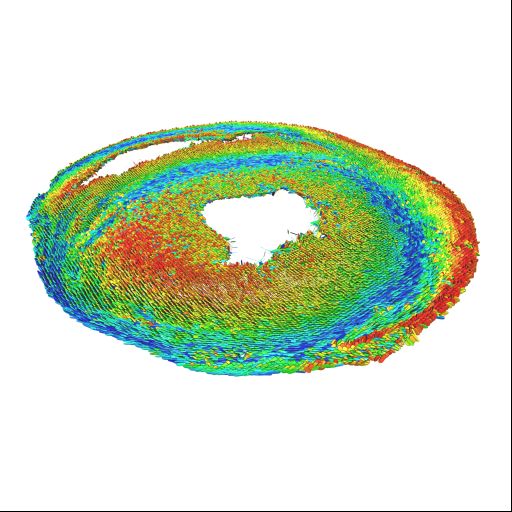 Display image description

Continuity rendering of reconstructed DT-MRI dataset.
Full resolution image description

Data dump text file from AFNI. Columns are as follows: 1-Voxel number; 2-x voxel; 3-y voxel; 4-z voxel; 5-Dxx; 6-Dxy; 7-Dyy; 8-Dxz; 9-Dyz; 10-Dzz; 11-lambda1; 12-lambda2; 13-lambda3; 14-evec11; 15-evec12; 16-evec13; 17-evec21; 18-evec22; 19-evec23; 20-evec31; 21-evec32; 22-evec33; 23-Fractional anisotropy; 24-Mean diffusivity;
---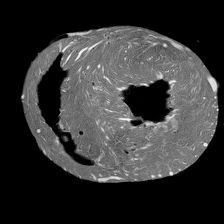 Display image description

Computed axial slices through the left ventricle of a normal rat imaged using diffusion tensor imaging
Full resolution image description

All of the MRI data is located in this section. The file is a zipped folder that contains the in vivo MRI experiments and the DT MRI experiments from Florida. The in vivo folder contains the tagged and non-tagged images in BRIK format. The DT MRI folder contains the DT images in BRIK and NIFTI format as well the raw data.
Animation description

n/a
---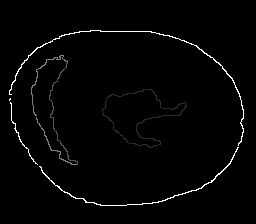 Display image description

Rat ventricle
Segmentation file description

In this section, all the segmentation for the in vivo scans and the DT scans. The file is a zipped folder that contains ITK snap segmentation files, and STL files. The ITK snap files are the segmentation image volumes and the STL files are the exported surface meshes of individual endo/epicardial surfaces.
---
License
Project name

UCSD Virtual Rat Project
Description

High-resolution diffusion tensor MRI experiments of control and hypertenstive rats to determine fiber and sheet orientations on 17T scanner at Gainesville, Florida.
Leader(s)

Andrew D McCulloch
Collaborator(s)

Jeff Omens
Jennifer Stowe
Eric Carruth
Diane Huang
Experiment
Purpose

Diffusion tensor images of control and hypertensive rat hearts scanned and prepared by Min Sig Hwaung at the University of Florida, Gainesville.
Experimenter(s)

Min Sig Hwaung
Microscopy product
Microscopy product ID

9449
| Spatial Axis | Image Size | Pixel Size |
| --- | --- | --- |
| X | 256px | 60 um/pixels |
| Y | 224px | 60 um/pixels |
| Y | 55px | |
Imaging parameters
Type

Electron microscopy product
Energy filter dispersion

na