Alternate header for print version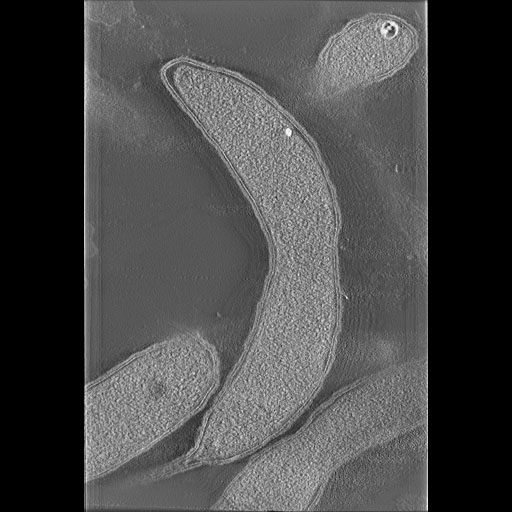 Display image description

an image of slice 210 from the reconstructed volume.
Full resolution image description

one .mrc file of the final reconstructed volume using TxBR's quadratic transforms.
Volume_dimension

2242, 3340, 360
Volume scale

0.001, 0.001, 0.001
Animation description

a .mpg file of the reconstructed slice by slice volume.
---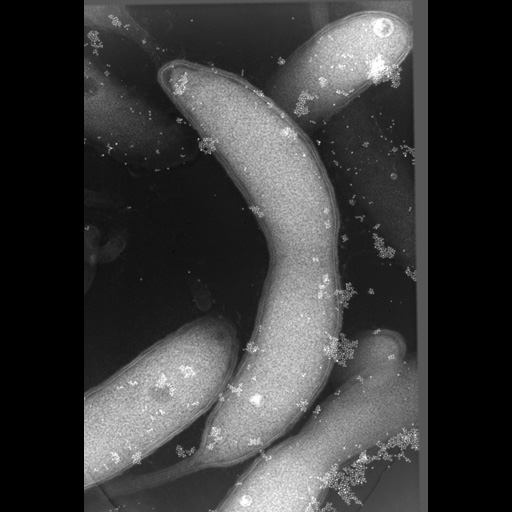 Display image description

0 degree view of the tilt series taken of a Caulobacter Crescentus specimen.
Full resolution image description

Included files are all used / produced by TxBR for the tomographic reconstruction process. In addition, the .preali mrc file in floating point (map mode 2) is included, as well as the .rawtlt file, .fid fiducials file and digital notes on the reconstruction process.
Animation description

a .mpg file showing the aligned tilt series stack of the Caulobacter Crescentus specimen
---
License
Description

Tomography of Caulobacter crescentus
Funding agency

Department of Energy
Leader(s)

Lucy Shapiro
Harley McAdams
Collaborator(s)

Patrick H. Viollier
Tom Deerinck
Mason Mackey
John Crum
Mark Ellisman
Experiment
Experiment date

05-12-2004
Title

Tomographic reconstruction of caulobacter
Purpose

Produce a series of tomographic data of the normal morphology of Caulobacter Crescentus using rapid freezing methods.
Experimenter(s)

Patrick Viollier
Tom Deerinck
Microscopy product
Microscopy product ID

3627
Subject
Scientific name

Caulobacter crescentus
Specimen description
Cell type

Caulobacter crescentus
Imaging parameters
Type

Electron microscopy product
Accelerating voltage

400 keV
Notes

0.5 um thick sample
Specimen preparation
Protocol used

High Pressure Freezing (HPF): completed on January 26th, 2006 using Balzers HPM 010 in 100 micron deep gold plated copper planchettes. Bacteria was centrifuged decanted and paced applied to planchettes.Free Substitution: Started Friday January 26th.1. Cocktail - 2% Osmium tetroxide, 0.5% urynal acetate in anhydrous acetone2. Time -T1: -90 Celsius for 72 hoursS1: 2 Celsius per hour for 15 hoursT2: -60 Celsius per hour for 12 hoursS2: 5 Celsius per hour for 12 hoursT3: 0 Celsius HoldLeica FSU
Imaging product type
Notes

Single tilt Caulobacter Crescentus series.