Alternate header for print version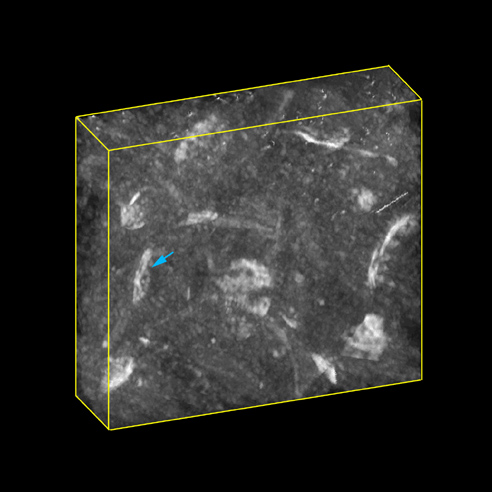 Display image description

maximum intensity projection of tomographic reconstruction of PSDs in area CA1 (blue arrow).Intensity is reversed so that PSDs appear bright against a dark background.
Full resolution image description

Volume reconstruction of selectively stained PSDs in Analyze format
Volume_dimension

451, 411, 238
Volume scale

0.004, 0.004, 0.004
Animation description

rotation loop of maximum intensity projection of shamca1 in 5 degrees. increments along the y axis. The contrast is reversed so that PSD appear bright against a dark background.
---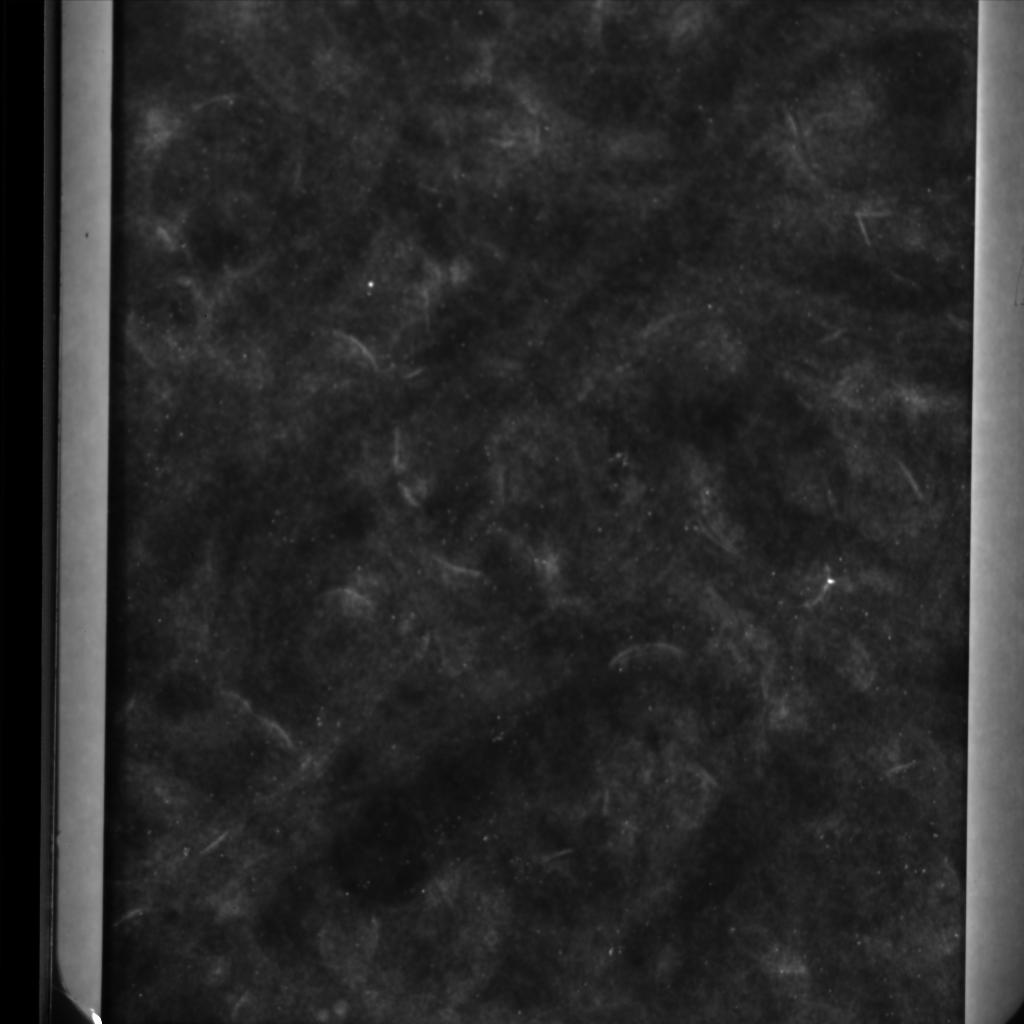 Full resolution image description

This tar file contains the original tile images; shamca1.???.f along with the fiducial mark file (shamca1.fido) used to align the data
---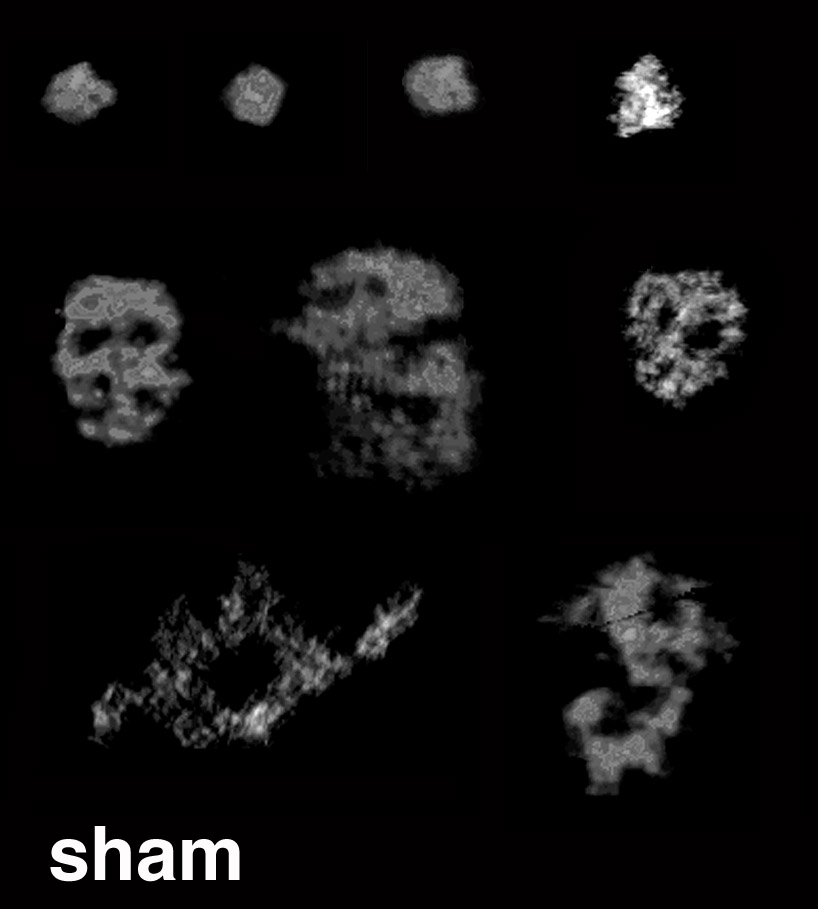 Display image description

Obj file contains individual PSDs segmented from shamca1.img using the "multiple objects" feature of Analyze.
---
License
Project name

Synaptic alterations in transient ischemia
Description

Investigation of morphological alterations of post-synaptic densities following an episode of transient ischemia
Collaborator(s)

Maryann Martone; Ying Jones
Experiment
Experiment date

05-01-1997
Title

Tomographic reconstruction of EPTA stained post-synaptic densities
Purpose

3D structure of post-synaptic densities selectively stained with EPTA
Experimenter(s)

Bingren Hu
Microscopy product
| Spatial Axis | Image Size | Pixel Size |
| --- | --- | --- |
| X | 1024px | 0.004 µm |
| Y | 1024px | 0.004 µm |
Subject
Scientific name

rattus norvegicus
Group by

time of reperfusion
Tissue section
Anatomical location

hippocampus
Specimen description
System

central nervous system
Structure

post synaptic density
Imaging parameters
Type

Electron microscopy product
Accelerating voltage

400 KeV
Specimen preparation
Protocol used

Ischemia model: All experimental procedures were approved by theSubcommittee on Animal Studies of the Veterans Affairs Medical Center(San Diego, CA). Male Wistar rats (250-300 gm) were fasted overnight.Anesthesia was induced with 3% halothane followed by maintenance with1-2% halothane in an oxygen/nitrous oxide (30/70%) gas mixture.Catheters were inserted into the external jugular vein, tail artery,and tail vein to allow blood sampling, arterial blood pressurerecording, and drug infusion. Both common carotid arteries wereexposed and encircled by loose ligatures. Fifteen minutes beforeischemia induction and 15 min after ischemia, blood gases weremeasured and adjusted to PaO2 >90 mmHg and PaCO2 35-45 mmHg, pH7.35-7.45, by adjusting tidal volume of the respirator. Bipolar EEGwas recorded every 5-10 min before ischemia, continuously during theischemic insult, and every 5 min after ischemia until the ratrecovered from the anesthesia. At the beginning of a 30 minsteady-state period before induction of ischemia, the inspiredhalothane concentration was decreased to 0.5%, and 150 IU/kg heparinwas administered intravenously. Blood was withdrawn via the jugularcatheter to produce a mean arterial blood pressure of 50 mmHg, andischemia was induced by clamping both carotid arteries. Bloodpressure was maintained at 50 mmHg during the ischemic period by2end of the ischemic period, the clamps were removed, and the bloodwas reinfused through the jugular catheter, followed by 0.5 ml of 0.6M sodium bicarbonate. In all experiments, temperature was maintainedat 37C before, during, and after ischemia (15 min of reperfusion).Halothane was discontinued at the end of ischemia, and all woundswere sutured. At 4 or 24 hr, 3 d, or 1 week after the ischemicepisode, the animals were reanesthetized, tracheotomized, andartificially ventilated. For electron microscopic studies, the brainswere perfused with ice-cold 2% paraformaldehyde and 2.5%glutaraldehyde in 0.1 M cacodylate buffer. Sham-operated control ratswere subjected to the same surgical procedures but without inductionof ischemia.Electron microscopic studies: Tissue sections fromexperimental and control animals were stained either by 1% ethanolicphosphotungstic acid (E-PTA) (Bloom and Aghajanian, 1966, 1968) or bythe conventional osmium-uranium-lead method. Briefly, coronal brainsections were cut at a thickness of 200 um with a Vibratome throughthe level of the dorsal hippocampus and post-fixed for 1 hr with 4%glutaraldehyde in 0.1 M cacodylate buffer, pH 7.4. For conventionalosmium-uranium-lead staining, sections were post-fixed for 2 hr in 1%osmium tetroxide in 0.1 M cacodylate buffer, rinsed in distilledwater, and stained with 1% aqueous uranyl acetate overnight. Thetissue sections were then dehydrated in an ascending series ofethanol to 100%, followed by dry acetone, and embedded in DurupanACM. Thin sections were counterstained with lead citrate beforeexamination in the electron microscope. For E-PTA staining, sectionswere dehydrated in an ascending series of ethanol to 100% and stainedfor 1 hr with 1% PTA prepared by dissolving 0.1 gm of PTA in 10 ml of100% ethanol and adding four drops of 95% ethanol. Sections were thenembedded in Durcupan ACM.