Alternate header for print version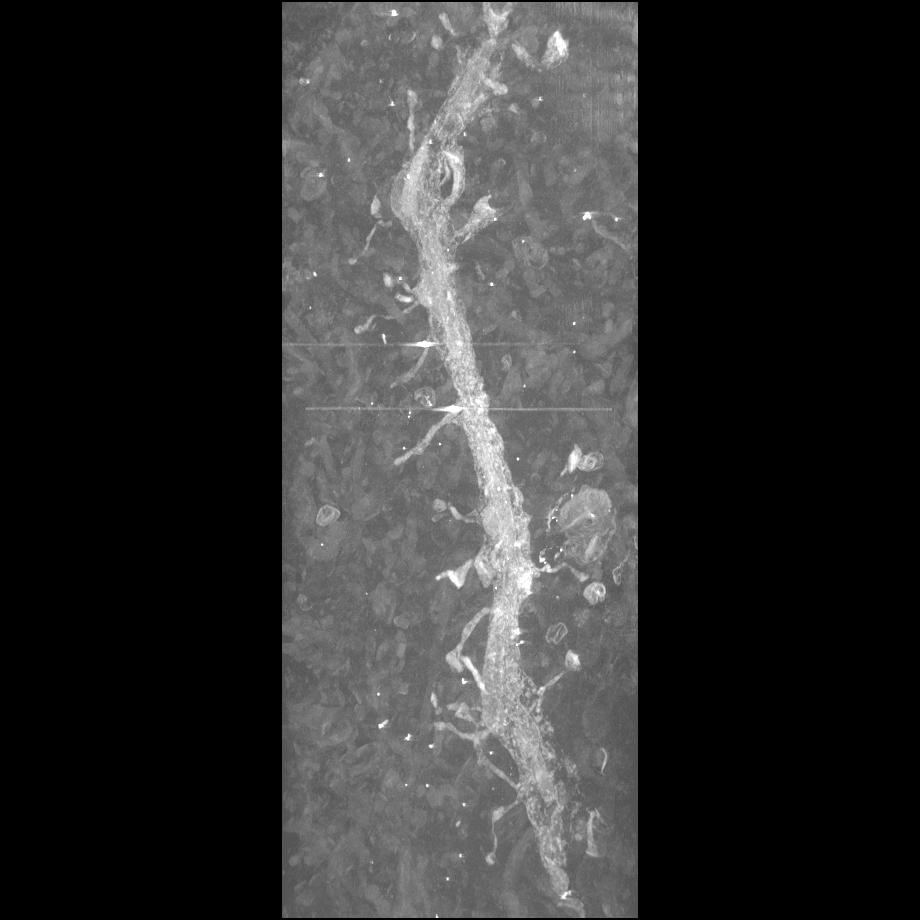 Display image description

Tomograhic reconstruction of portion of spiny dendrite from a medium spiny neuron from mouse nucleus accumbens. Neuron was filled with Lucifer Yellow and then photooxidized. To view correlated light microscopic data, click View Correlated Data
Full resolution image description

Tar file containing the tomographic volume in Analyze 7.5 format (acc1_2ma.img/hdr).
Volume_dimension

360, 920, 191
Volume scale

0.02, 0.02, 0.02
Animation description

maximum intensity projection through spiny dendrite rotated in 5 degrees increments on the y axis. Contrast is reversed so that the stained dendrite appears bright against a dark background
---

Display image description

Zero tilt image from a single tilt series through a 2 ?m thick section of a medium spiny neuron that has been intracellularly injected and photooxidized
Full resolution image description

Tar file containing full sized unaligned tilt images in Suprim format (tomo1.*.f) along with the fiducial mark file used to align them (tomo1.fido) and the aligned, cropped images used for the reconstruction (tomo1.*.crop). An animation of the aligned, cropped images may be viewed by clicking on the animation link. Note the basename for the 2D data files (tomo1) is different than the basename for the volume (acc1_2ma).
Animation description

Animation through the aligned tilt series
---
Display image description

Manual segmentation of dendritic spines using Xvoxtrace 2.11 from tomographic volume of spiny dendrite from mouse nucleus accumbens. Each spine was segmented as a separate object. Spines were surfaced and rendered using Synu. The display image shows a rendering of the dendritic spines (multiple colors) and the dendritic shaft (gray). The dark blue face on the dendritic shaft represents the shorn face of the dendrite at the volume surface.
Segmentation file description

Tar file containing the segmented spines and dendritic shaft from the tomographic volume. Tarfile contains objects surfaced with Synu (*.synu), the associated Viewdata file required by Synu for viewing; and Xvoxtrace file (acc1_2ma.trace) used to contour the objects. Clicking on "All details" link in the segmentation window will return a list of segmented objects and their descriptions.
---
License
Project name

Mouse BIRN test data
Description

NCMIR test data for Mouse BIRN
Leader(s)

Maryann Martone
Collaborator(s)

Eric Bushong
Experiment
Experiment date

12-13-2001
Title

Intracellular Injection of Nucleus Accumbens Neuron
Purpose

to obtain multi resolution data for Mouse BIRN
Experimenter(s)

Eric Bushong
Microscopy product
| Spatial Axis | Image Size | Pixel Size |
| --- | --- | --- |
| X | 1024px | |
| Y | 1024px | |
Subject
Scientific name

mus musculus
Tissue section
Anatomical location

nucleus accumbens
Specimen description
System

central nervous system
Cell type

medium spiny neuron
Imaging parameters
Type

Electron microscopy product
Accelerating voltage

400 KeV
Imaging product type
Imaging product type
Description

stereopairs_desc
---