Alternate header for print version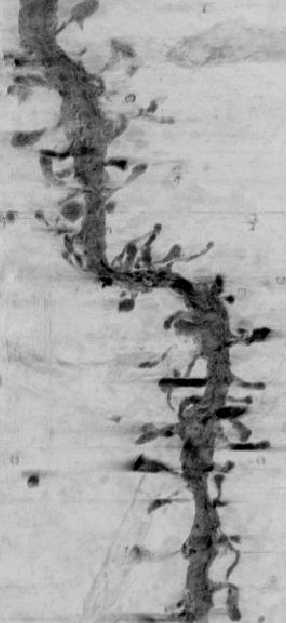 Display image description

Maximum intensity projection of a tomographic reconstruction of stained dendrite from rat neostriatum in a 4 um section.
Volume_dimension

270, 586, 154
Volume scale

0.022, 0.022, 0.022
---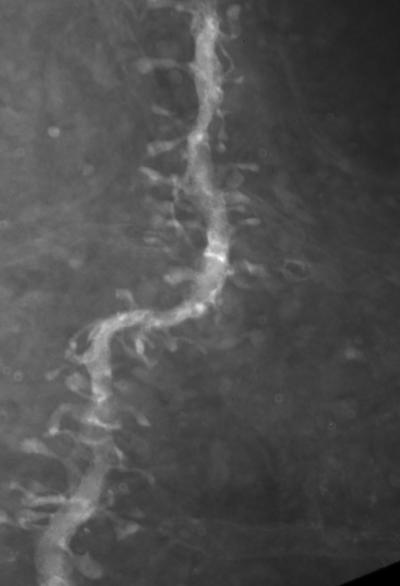 Display image description

Zero tilt image from a single tilt series through a 4 ?m thick section of a medium spiny neuron dendrite that has been intracellularly injected and photooxidized
Full resolution image description

Tar file containing unaligned compressed tilt images (*.f.gz) and the aligned, cropped images (*.crop) in Suprim format. The fiducial mark file (osaka3.fido) and origin file (osaka3.fido.origin) used to align the tilt images using the program Xfido are also included.
Animation description

Animation through the aligned tilt series
---
Display image description

manual segmentationi using Xvoxtrace; surfaced with Synu
Segmentation file description

Tar file containing original trace file with manual contours (osaka3.trace) produced by Xvoxtrace v 2.9 and the surface renderings of the dendritic shaft (shaft.synu) and the population of dendritic spines (spine.synu) in Synu format, along with the Viewdata file required for viewing with Synuview.
---
License
Project name

Correlated Microscopy of Dendritic Spines
Description

Measurements of spine parameters using light microscopy and electron tomography
Leader(s)

Maryann Martone
Collaborator(s)

Naoko Yamada; Gordun Arbuthnott; Cali Ingham; Stephen Young
Experiment
Title

Tomography of spiny dendrite at 3 MeV
Purpose

whether 3MeV can be used for tomography of very thick sections
Experimenter(s)

Naoko Yamada
Microscopy product
| Spatial Axis | Image Size | Pixel Size |
| --- | --- | --- |
| X | 1024px | |
| Y | 1024px | |
Subject
Scientific name

rattus norvegicus
Tissue section
Anatomical location

neostriatum
Specimen description
System

central nervous system
Cell type

medium spiny neuron
Imaging parameters
Type

Electron microscopy product
Accelerating voltage

3 MeV